IS300 Conveyors feature a timing belt design that allows accuracy of ±.015", making them an ideal solution for delivering product or parts to a precise position for a robot to perform an action. Profiles can be swapped quickly to accommodate differing product geometries.
Read More

IS125 flat belt conveyors are versatile and reliable. The low, 1.89" profile steel frame allows them to fit almost any application, including tight spaces, while also making them perfect for applications with demanding environments and heavier loads like metal working and automotive industries.
Read More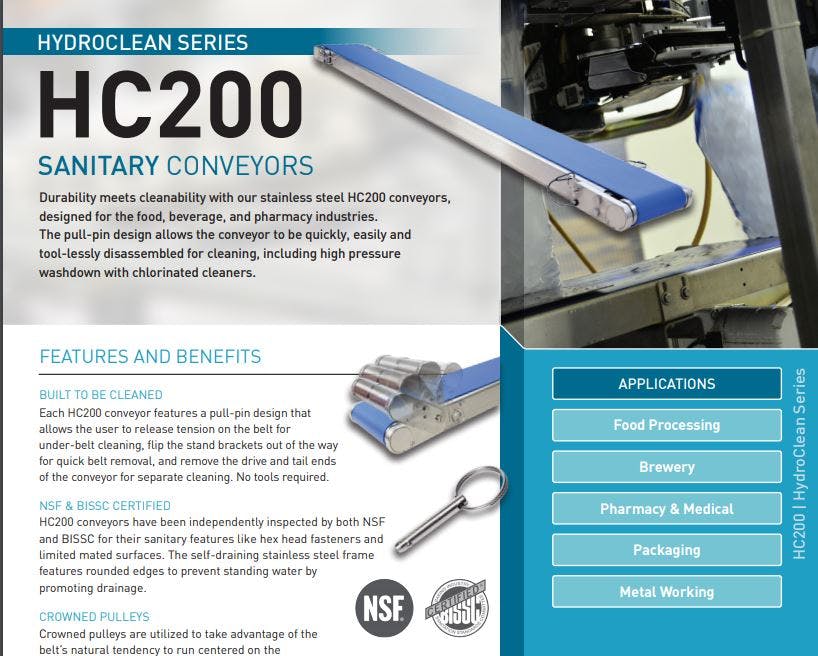 HC200 Conveyors are designed for easy cleaning in sanitary applications like food, beverage and pharmaceutical. They can be disassembled without tools to reduce downtime for cleaning.
Read More

CBC080 Curve Belt Conveyors are the preferred solution for maintaining product orientation when a turn is required They guide product around the turn, maintaining the same orientation at both infeed and outfeed. CBC080 Conveyors are engineered to transition product seamlessly with our AS40 family of conveyors. The conveyor's conical pulley and drive system are maintenance-free. Guide rollers flip ...
Read More